Republican Florida Representative Matt Gaetz has publicly alerted Florida's Republican Governor Ron DeSantis that a Florida festival is "unlawfully" requiring vaccinations from guests.
In a Monday letter addressed to DeSantis, Gaetz mentioned that the 30A Songwriters Festival—a music festival featuring 240 artists performing at over 30 different venues from Jan. 14 to Jan. 17—is requiring attendees to either show proof of full vaccination or a negative COVID-19 test taken no more than 72 hours before registering at the festival.
"Regrettably, I write to inform you that within my congressional district, there appears to be a blatant violation of Executive Order 21-81, 'Prohibiting COVID-19 Vaccine Passports,'" Gaetz wrote DeSantis.
"Your executive order allows entities to engage in COVID-19 screening, generally, but does not permit different treatment for the vaccinated and unvaccinated," Gaetz's letter continued.
Newsweek contacted the 30A Songwriters Festival for comment.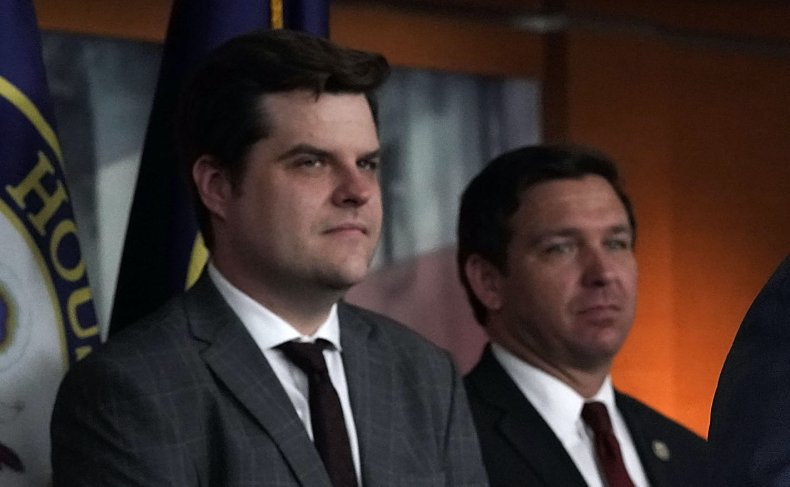 DeSantis signed the executive order on April 2, 2021. In it, DeSantis wrote that when businesses require proof of vaccination, it "reduce[s] individual freedom … harm[s] patient privacy" and "create[s] two classes of citizens based on vaccination."
Gaetz's Monday letter also noted that the event had been partially funded by taxpayer dollars through the Tourist Development Council of Walton County. Businesses that don't comply with DeSantis' order are ineligible for state grants.
"Vaccine passports should not be funded by Florida taxpayers," Gaetz says.
DeSantis' office received Gaetz's complaint and forwarded it to the state Department of Health (FDOH), DeSantis spokesperson Christina Pushaw told FloridaPolitics.com. Pushaw said that suspected violations should be reported to FDOH.
"The agency … investigates these complaints and when warranted, takes enforcement action against entities found to be in violation of the law. The fine is $5,000 per violation, per the law," Pushaw told the aforementioned website.
When vaccine passports first emerged, they were considered as a possible way to encourage vaccination and allow patrons to disregard masks in indoor venues. However, the Omicron, Delta and other COVID-19 variants have complicated the proposition by being able to bypass the immunity offered by vaccinations, boosters and prior infections.
Nevertheless, medical professionals at the U.S. Centers for Disease Control and Prevention (CDC) have still encouraged people to get vaccinated. Vaccinations can reduce the severity of COVID-19 symptoms and the amount of coronavirus in a person's body, making the virus less transmissible.
Unvaccinated individuals are 17 times more likely to go to the hospital and 20 times more likely to die from COVID-19, the White House said on Monday.
Some schools, the military and medical workplaces have required employees to have a record of required vaccinations for decades before COVID-19 emerged.
As of Jan. 5, 20 states have banned vaccine passports for COVID-19. All 20 states have Republican governors.
Currently, five states—California, Hawaii, New York, Oregon and Washington—have laws allowing people with proof of vaccination to bypass some COVID-19 restrictions. All five states have Democratic governors.